We're a non-profit food pantry that partners with volunteers, food suppliers, and financial donors to directly distribute groceries to families in need throughout Western Pennsylvania.
We're still open and serving more families than ever before. See how we're keeping our staff, our supporters, and those we serve safe.
If You Need Food, Come See Us
You shouldn't have to worry about finding food for your family. No matter your situation, our three convenient distribution times make sure you have access to nutritious meals and healthy servings of hope.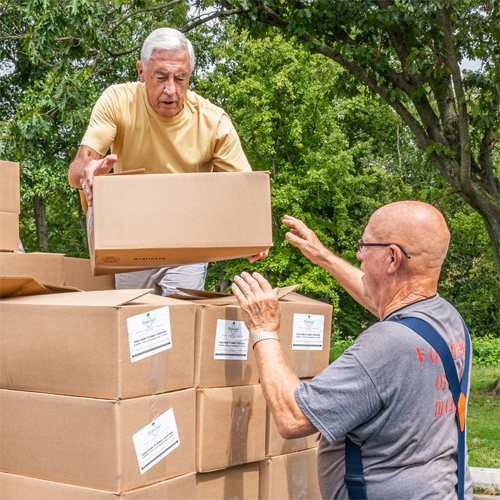 Join Our Team and Change a Life
Whether you're passing out food or stocking our shelves, you'll be helping families overcome food insecurity and find joy. You'll also be surprised at how serving leaves you feeling connected and encouraged.
Fight Hunger With Your Donations
Serving over 3,000 families every month requires the gracious support of people like you. Through your financial contributions and food donations, you can help us reach more families and finally end hunger.
View Our Upcoming Fundraisers
Through the participation of gracious people like you, fundraisers keep our lights on, our shelves stocked, and our doors open, which means more people are being helped. Join us in putting the "fun" back in fundraiser.
Before coming to The Pantry, it was hard to find enough food. But, now that I can come regularly, I don't have to rely on my friends and that makes me feel proud again. I feel so respected there.
– Ken W.
Having regular meals and making ends meet used to be really hard for me. That's why Families Matter Food Pantry is like a gift from heaven. I'm so cared for now that I'm even able to share with my neighbor.
– Charles C.
Due financial issues, finding food was difficult. Thankfully, a volunteer at The Pantry invited me to come, introduced me to the friendly people there, and now I always have great quality food—even enough to share!
– John & Michelle G.
I can say without a doubt that life is much better now that I don't have to worry about where I'm getting food from. It was hard before but The Pantry has made it easy. I love this place and the people who serve there.
– Deb B.
As a Veteran caring for two kids and my mother-in-law, getting enough food was tough. The Pantry has helped so much. I love the food, the polite volunteers, and that I never feel judged. Thank you all!
– Anthony M.
Whether you need food or you're looking to help
There's a Place for You at Families Matter Food Pantry